Top 2023 Pool Trends You Must Have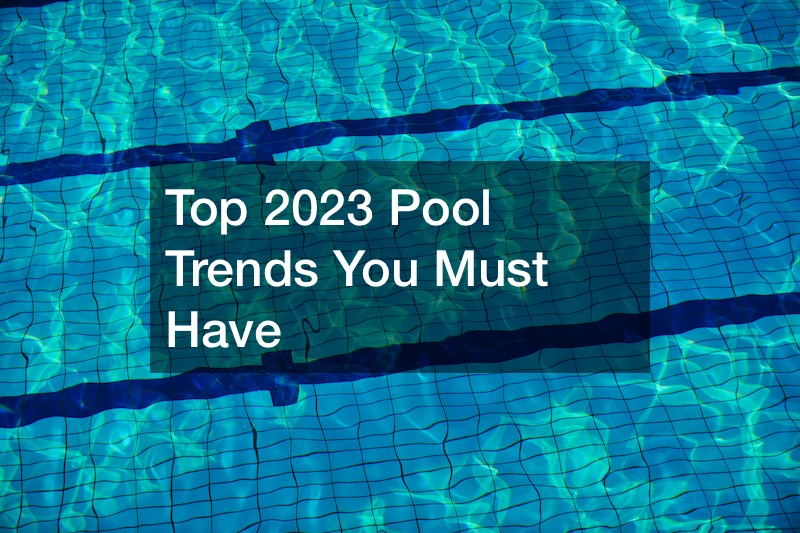 Do you want to build a new pool or renovate your present outdoor retreat? Similar to fashion, there are 2023 pool trends that will make your outdoor pool both fashionable and useful. From zero-entry pools to smart pool features, these are the 2023 pool trends to consider if you want to enjoy lounging in your new, updated backyard pool. Read on to learn more about these 2023 pool trends and find out which may be right for you!
Blue Shade
When considering purchasing a swimming pool, one of the first things people ask is what color tile they should use. If you glance into your neighbor's pool, the tiles are likely blue. If you drive down the street and peer over the fence, you'll probably notice that the homeowner's pool is also blue. Blue pool liners continue to set the standard for liner 2023 pool trends, coming in various prints and colors.
Since blue is the color most often associated with water, it makes sense that blue pool liners would always be industry standards and current best-sellers. The majority of pool owners choose blue tiles for their pools because it is a color that reflects the blue hue of the sky. Many travelers look for nations with white sand beaches and blue ocean waters as vacation destinations. Whether used in the tiles, pool deck coatings, or accessories, a calming blue color scheme encourages tranquility and relaxation.
Try calming, soft blues that add fresh, natural tones to the water's overall blue color to create the ideal backyard haven. Light blue liners give the space a spa-like feel while letting the focal colors take center stage. Although light blue base films go well with practically any color and kind of decking material, they stand out the most against tan or grey stonework. Light blue base films for vinyl liners typically exhibit less color fading than darker liners, so if you're worried about color fading, a lighter blue liner might be the best option for you.
Eco-Friendly
Creating the pool of your dreams doesn't have to be an environmental burden regarding the materials, chemicals, and upkeep. The newest 2023 pool trends make designing a water feature with sustainable materials and methods to reduce environmental impact easy and reasonably priced. A professional pool deck contractor can help you install an eco-friendly pool, which is a great option if you are a pool owner who cares about the environment. There are many eco-friendly options available for everything from the pool's materials to the surrounding furniture and fencing.
When selecting lighting for the pool's interior and exterior, look for energy-efficient options. Rechargeable and solar-powered fixtures are excellent places to start. Select energy-efficient water cleaning and filtration systems for optimal results. When heating the pool, you can also take advantage of the sun. To maintain the ideal water temperature, use solar covers and panels rather than heating systems that increase electricity costs.
Pool pumps require a lot of energy to move water through the circulation systems in pools. In actuality, standard models consume the most electricity of all home appliances, aside from air conditioners and heaters. According to estimates by the Natural Resources Defense Council in 2008, American pumps are accountable for 10 million tons of greenhouse gas emissions per year, comparable to 1.3 million cars.
Many pool service experts advise running the pumps for six to twelve hours daily because that is enough to push the pool's water through the filter. But since most debris is only at the top of the pool, you can run your pump for shorter periods without experiencing any problems. By doing this, you will lower your carbon footprint and save money on running expenses.
Smart Pools
Maintaining a pool can be one of the biggest responsibilities for pool owners, so one of the more interesting new technological developments is smart pool technology. Although smart and regular swimming pools are similar, what is the key distinction? Smart pools, also called future pools or intelligent pools, have technology that allows you to program tasks.
Pool lighting is one straightforward but crucial feature a smart pool can manage. This feature is very handy because it saves you time if you ever need to leave your house quickly by turning off the pool lights while out. The pool pump is another crucial component that is programmable. Your waters will remain clear and clean even when you are away from home, thanks to a smart pool pump. You can operate the smart pool while on the go, allowing you to turn on the pump even when you are away from home, saving your pool from sitting motionless until you return.
The smart pool's self-cleaning feature is yet another compelling feature. Traditional swimming pools can take hours to maintain between scrubbing the walls and filtering any surface debris through a net, which can negate the tranquility a pool should be intended to provide. In fact, according to BobVilla, homeowners should budget between $110 and $351 for pool cleaning. Fortunately, smart pool technology allows your pool to clean itself with a few taps on your smartphone. This implies that you can take a trip without worrying about who will maintain your pool or about leaving it alone and wondering what kind of mess your home might have when you get back.
Vanishing Edges
There's a good reason why infinity pools require less upkeep than traditional pools: one of their nicer features As the water in these pools circulates from the holding tank back into the main pool, it passes through continuous filtration and cleaning systems. This procedure can help clear out debris and make it much simpler to maintain the stunning appearance of your pool year-round.
Nothing screams luxury quite like an infinity pool when it comes to opulent swimming pools. This kind of pool is well-liked because of the breathtaking optical illusion that the water seems to go on forever, forming an unbroken, edgeless flow between the pool and its surroundings. Many people find immense relaxation in the natural backdrop and beauty of an infinity pool. After a stressful day, the unique atmosphere that the sound of the water cascading over the edge creates is perfect for unwinding.
The view is arguably the most alluring feature of this kind of pool. It adds a stunning element that you won't get with a traditional pool because it appears to be sinking right into the landscape with water flowing over the edge. With the help of a skilled pool contractor, you can easily create a focal point in your yard that will serve as a gathering spot for your family and friends, depending on the slope and size of your space.
Dark Interior
For a long time, many pool owners liked the traditional blue hues because they had a lovely, tranquil appearance that was perfect for a relaxing area. The selection of choices, Tahoe blue, midnight blue, electric blue, sky blue, and crystal blue, is excellent and ideal for most individuals. However, as pool designs advance, there are countless ideas for features to include in your pool every year. It's imperative to stay current with 2023 pool trends if you want to design the ideal pool. If you're designing a pool, you've undoubtedly heard about the popularity of dark-colored pools.
Dark-colored pools have advantages that go beyond appearance. Typically, having a pool means paying large monthly energy bills. Additionally, the color of your pool can impact how much you pay for electricity. Colors impact heat absorption and retention, influencing the heat required to keep the water at the necessary temperature. Making the correct color selections will help you cut your pool's energy expenses dramatically.
Due to their potential to reduce energy expenses, dark pools are popular right now. They have a greater capacity to absorb solar heat and hold it for hours. By extending your swimming season without using a pool heater, the water in a dark pool will remain warmer for longer. Compared to light-colored pools, dark-colored pools do not reveal dirt as quickly. They will only need a little cleaning or treatment, saving you money and effort.
Dark colors can be a great choice for your pool if you're usually too busy to clean it. A dark-colored pool also appears darker because of the additional shade, which offers some seclusion. People find it challenging to see inside the pool because of the darker colors. This is a big benefit if your neighbors wish to lounge around your pool or have a clear view of it. Custom pool builders can help you bring out the uniqueness of your pool through this personalized design.
Water Features
There are extra features you can add to your pool to make it even more enjoyable. Still, even with a shimmering body of water in your backyard, you can enhance the experience by adding swimming pool water features. There are countless design options available to you; all you have to do is plan and ensure that every component in the backyard works well together. A discussion or compilation of various water features would only be complete with a mention of captivating pool waterfalls, which is understandable given that this multipurpose pool feature delights members of all ages.
Rain curtains are a beautiful water feature that adds elegance to the landscape and provides entertainment, mimicking the rhythmic patterns of nature. This addition can become a style statement if paired with beach-themed decor or a rock display in a natural setting. Additionally, if your property is large enough, think about setting up multiple timed lighting fixtures and pumps to create a show of dancing fountains. Even basic pool designs that create a calm atmosphere will be popular, even with those ostentatious and dramatic water features.
Rain curtains are a beautiful water feature that adds elegance to the landscape and provides entertainment, mimicking the rhythmic patterns of nature. This addition can become a style statement if paired with beach-themed décor or a rock display in a natural setting. Additionally, if your property is large enough, think about setting up multiple timed lighting fixtures and pumps to create a show of dancing fountains. Even basic pool designs that create a calm atmosphere will be popular, even with those ostentatious and dramatic water features.
Sprinklers and deck jets that shoot up water for a cool splash when you're not in the mood for a swim are the epitome of family fun. Not to mention how these joyful additions instantly uplift the mood and improve the aesthetics of your backyard. In addition to providing a built-in shallow kiddie pool, splash decks also have aesthetic value. To guarantee safety and functionality, you should hire a professional pool repair service for any necessary swimming pool repairs or upgrades of these features.
Geometric Shapes
In 2023, geometric pool designs will become more popular. The fact that 'geometrically' shaped pools are sleeker and more modern than freeform pools may cause a resurgence in popularity. Additionally, because they are more conventional, they imply permanence, which is a reassuring thought in an era of swift change.
Geometric pool designs are characterized by sharp edges, symmetrical shapes, and a more formal, structured appearance. Rectangular, square, circular, oval, and triangle pools are common geometric shapes. You can use these shapes separately or in combination to make more complex designs. Geometric pools are popular because of their sleek, modern appearance and ability to blend in with various architectural designs. Geometric pools are also perfect for other water sports that call for straight swimming lanes, like lap swimming.
The ability of today's pool builders to add luxurious features to any pool design—such as tanning or baja shelves, waterfalls, beach or sloping entries, swim-out steps, in-water ledges, and spas—may be an even more important factor. These features add interest to otherwise simple geometric shapes. If you seek a bold and modern appearance, look for skilled pool cage repairs professionals to help you achieve your vision.
Heating
The process of heating pool water to a comfortable swimming temperature is known as swimming pool heating. Since outdoor pools are exposed to the elements, including colder temperatures, it is necessary. The market is filled with different heating systems, such as heat pump-based, solar, electric, and gas systems. The 2023 pool trends for heat pumps are expected to expand steadily at a compound annual growth rate (CAGR) of 5.25% from 2022 to 2028.
Environmental concerns have also led to a shift in heating options toward those that use less energy. Because they use renewable energy sources and are environmentally friendly, solar-based heating systems are becoming more and more popular. The market is growing as a result of government initiatives supporting green technologies. An environmentally friendly swimming pool system, such as a solar-powered heating system, should be installed by certified pool contractors. For individuals who enjoy swimming throughout the year, solar pool heaters are a great purchase.
Furthermore, pool heating systems are now more affordable, user-friendly, and efficient thanks to technological advancements. Pool owners are starting to favor smart heating systems because of their energy-saving features and remote control capabilities. The market for swimming pool heating is anticipated to grow significantly over the next several years due to rising demand, environmental awareness, and technological advancements.
Landscaping
In 2023, landscape design and 2023 pool trends will change quickly due to homeowners' shifting demands and tastes. Explore the top design 2023 pool trends, whether you're thinking about adding a new pool or landscape design to your home or just interested in what's going on in the business.
Many homeowners want to incorporate eco-friendly and sustainable design elements into their landscapes and pools as environmental concerns grow. This style incorporates low-maintenance landscaping and energy-efficient pool equipment, along with the use of locally produced and natural materials like wood and stone. The natural pool is one of the most well-liked eco-friendly pool designs. Natural pools use plants and helpful bacteria to filter and purify the water, unlike traditional pools that need harsh chemicals to maintain. This results in a swimming experience that is both beautiful and sustainable without the use of chemicals.
Similarly, using natural materials like stones and boulders in landscape design is becoming a more common way to give the area texture and visual interest. In 2023, pool builders are collaborating closely with a landscape designer and landscaping companies to create pools that blend in perfectly with their natural surroundings. Your pool area can be transformed into a serene and beautiful paradise with the help of lush vegetation, stone pathways, and thoughtfully placed plantings.
In conclusion, outdoor living areas, natural shapes, technology, sustainability, and customization will all be major themes in pool and landscape design in 2023. You may design a pool and landscaping area that not only looks great and serves a purpose but also expresses your unique style and principles by implementing these 2023 pool trends.