Tips for Building the Ultimate Backyard Pool – And Why You Should Take the Plunge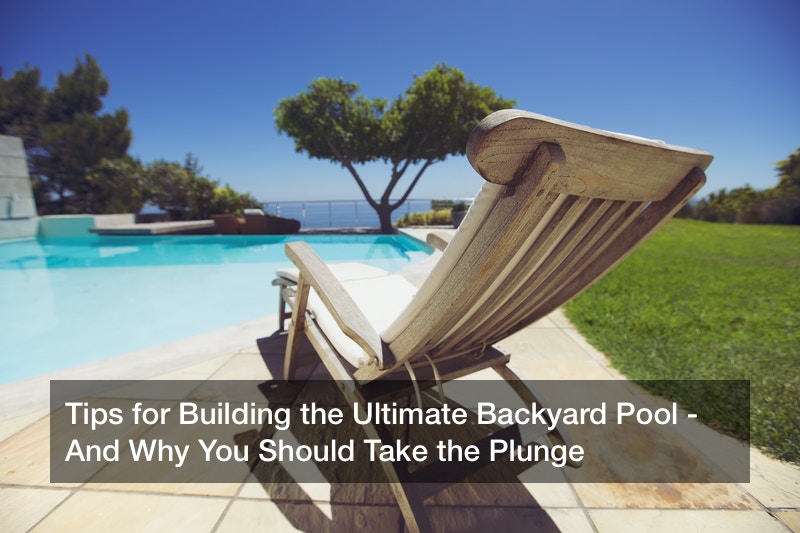 Swimming in a pool is the ultimate way to cool off on a hot summer day. Some families have to drive up to the lake or visit their community pool to enjoy this activity. However, others have the luxury of swimming in their own pool located just a short walk to their backyard.
It's apparent that swimming pools are incredible additions to any home. Therefore, if you've ever wanted to learn more about the upkeep, the benefits, and how you can start this project as soon as possible, continue reading.
Why You Need a Pool in Your Backyard
Building a backyard swimming pool has many benefits; if your home builder hasn't already designed you a property with one preinstalled, you'll find these pros interesting! For starters, having a swimming pool in your backyard means that you'll always have a safe and fun place to exercise. Goodbye, costly gym membership! Swimming is one of the best ways to get your cardio in for the day. Even doing a few laps around your family pool will have you feeling winded.
Secondly, building a backyard swimming pool will allow you to spend more time with your family. No more fighting over which house will be the go-to spot for birthday bashes and barbecues. Your family will automatically flock to your place when you have a nice spot to cool off during those scorching summer months.
Next up, having a pool of your own allows your family to stay safe while swimming. You never know exactly how clean a public pool is. Also, if you're wary about trusting teen lifeguards to watch your children, getting a pool is the best solution.
Your house's value may also increase by 7%, as a pool may bring more interested families forward if you ever need to sell your house fast.
Lastly, installing a pool is a project that will make you feel incredibly accomplished. If you're looking for a construction project that allows you to get your hands dirty, but also allows you to work the creative areas of your brain in terms of the design portion, strongly consider this project.
What You Need to Know About Maintaining Your Pool
However, despite the benefits of building a backyard swimming pool, there are a few maintenance tips you should watch out for.
Keep it Clean
Use a skimmer to spot clean every now and then, but also install a high-quality filter to get rid of any garbage that can contaminate the water.
Pressure Wash it
Pressure washing can remove gunk and build-up on the sides of your pool, so get this service done whenever your pool is not in use.
Monitor the PH Balance of Your Pool
The PH balance of your pool should not be neglected either. Install a monitor so that you can observe this essential reading. If your pool ends up growing algae, call a company that specializes in mold treatment services.
Install Netting or an Alarm System
While this tip isn't necessarily centered on pool maintenance, you should make your pool a safe area — especially if you have children or pets!
There are several ways you can go about this. First, install netting over the water. This can prevent anyone from falling in unsupervised.
You can also install a high fence to keep children out when you're busy in the house.
Lastly, consider an alarm system. Like a home alarm system, this method will blare a loud siren if someone gets too close to the water.
Clean the Drains
Don't make the mistake of letting debris get caught in the pool drain. Conduct monthly drain cleaning sessions to keep the water crystal clear.
Watch Out For Cracks in the Concrete
If you notice that your pool is cracking, find a company that specializes in concrete paving services to keep these deepest crevices from getting worse.

Creating Your Dream Pool: Step One
For this first step when building a backyard swimming pool, consider what kind of pool you wish to install in your backyard. There are two different ones available to install in your backyard. You can install an above ground pool or a below the ground pool. Above ground pools tend to be more cost-effective. They are also much easier to install. In-ground pools, on the other hand, take longer to create and finalize, but the end product is gorgeous, long-lasting, and 100% worth it!
Depending on your budget and time restraints, figure out which category suits your needs best.
Creating Your Dream Pool: Step Two
Now that you have an idea of what kind of pool you wish to install, it's time to get onto the design process.
We can break this up into even smaller steps, as it can often be just as detailed as the physical installation process.
Choose Your Shape
There are various shapes to choose from, and they are as follows.
Geometric: These pools resemble a perfect square or rectangle. If you want to opt for a timeless shape, consider a geometric pool.
Freeform: Freeform pools give you more freedom, as the name implies! They can be molded into any odd shape you please.
Oval: Oval pools are the prime choice for exercise as they make it easy to swim countless laps.
The Spool: Have you ever wanted to start building a backyard swimming pool but the size of your yard isn't big enough to accommodate one? Consider a 'small pool' or spool for your backyard.
L-Shape: And L-shape pool is modern, trendy, and will elevate your backyard to the next level. Consider this shape if your backyard's layout is tricky to work with.
Kidney Shaped or Figure 8: This shape similar to the round pool; however, it can be a lot longer. This shape is ideal for pool parties, and larger backyards.
Select Your Built-in Tools
Now, select the kinds of tools you want to be built into the pool. Do you want it to be energy efficient? Do you wish to control the temperature via a smartphone? Or perhaps you want a built-in water sanitizer or heater? These factors are often overlooked when building a backyard swimming pool.
Select Your Features
This part is every homeowner's favorite when building a backyard swimming pool. Choose which pool feature add-ons you want and customize it specifically for your family.
A fire pot near the water is ideal for the family that loves to roast marshmallows by the fireplace. This is also an incredible add-on if you plan to use your pool when winter hits.
A waterfall is another feature that the entire family will enjoy — especially the kids. This addition will also keep the water in motion, eliminating the amount of upkeep you'll need to do.
A lazy river is another creative and entertaining idea that will wow guests. In that same vein, fountains, colored lights, and a tanning ledge will ensure that your family members will never want to leave your home.
Other great additions that you can add to your pool include:
Creating Your Dream Pool: Step Three
Now it's time to discuss the construction of your new pool. Follow these steps, or alternatively, call an expert to help you along the way.
Get Your Permit and Confirm With Your HOA
Since building a backyard swimming pool from scratch requires so much construction, you'll need to obtain a permit from the city. However, you will also need to confirm your plans with your Home Owner's Association too.
Have Your Pool Builder Scan the Area
Before construction can officially begin, you'll need to have a representative from the pool building company come by to help you plan the layout.
You can tell them your expectations for your dream pool, as far as shape, size, and depth go.
Excavating
If you've decided to go for a below-the-ground pool, the first three days of your project will be devoted to excavating the ground to build your pool's foundation.
Pipes
Next, the underground plumbing is laid down.
This can take one to two days. Proper plumbing allows the water to filter and circulate through the pool freely.
The Steel Reinforcement is Placed
Next, the steel body is laid down to provide a base for the pool.
Electric and Gas Installation
Next on the roster is the electric and gas installation. An electrician will help you hardwire the pool so that it's connected to your home's gas lines.
Meeting State Inspection Requirments
At this point, a representative should come out to inspect your handiwork. Once you get the thumbs-up, you can move onto the next step.
Tiling and Finishing Touches
Put the final touches on your pool. Finish tiling and grouting the area surrounding your new pool or add any water features to make it stand out.
Creating Your Dream Pool: Step Four
What good is it putting all those hours of manual labor in when building a backyard swimming pool if you can't enjoy it once you're done? Plan an elaborate party. You deserve it!
If you're exhausted from giving this project all of your time and energy, no worries.
Keep these tips in mind when planning the ultimate pool party to celebrate your success and hard work.
Put together a theme to celebrate the building of your backyard swimming pool coming to a close. For example, sticking to a beach or luau party theme can help you when it's time to purchase decorations or create a playlist.
Send out electronic invites to all your friends, family members, and neighbors and let them know you're celebrating the end of your big project.
Creating Your Dream Pool: Step Five Spruce Up the Area
If your pool looks great, but the rest of your backyard needs some work, consider tackling these next few projects to make this outdoor area look like something out of a home improvement magazine.
Fix your patio door to make the entrance as dreamy as your new pool
Add better lighting to illuminate the walkway to your pool
Fix your landscape and plant flowers or a nice garden to add to the ambiance
Creating Your Dream Pool: Step Six
Add more home storage to add your pool accessories, so they're not overcrowding your backyard if you're planning on building a backyard swimming pool.
This long list of projects is sure to keep you busy this summer!
Final Words on Creating Your Dream Pool
Building a backyard swimming pool has a long list of benefits. However, ensure you're ready for the maintenance and installation before you bite the bullet and choose to install one. After giving it some earnest thought, consider these previous building tips for crafting the perfect pool.
Once the project is said and done, you'll be able to enjoy the fruits of your labor with a nice cold glass of lemonade while sitting poolside on a bright summer day!