How to Transform Your Backyard into a Summer Paradise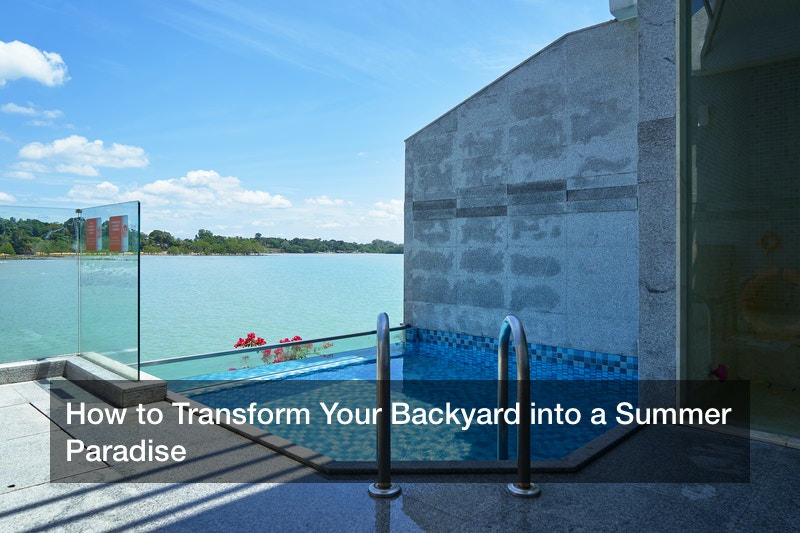 Summer is the perfect time to be outdoors, for picnics, backyard barbecues, cookouts, and late-night neighborhood gatherings on the back patio. The good news is you do not have to travel miles and miles away to an exotic location or go on an expensive or luxurious vacation to enjoy the outdoors. You can do that right at home in your backyard. There are many ways you can spruce up your boring backyard into a hub for lounging and entertainment. Here a few tips on how to transform your backyard into a summer paradise.
A Wooden Deck
The best deck to transform your backyard into a summer paradise is a wooden deck. If you already have a wooden deck, you may want to take some time to inspect and update it. A wooden deck or patio can become warped or damaged during the winter. Look for any missing or loose slates and replace them as needed. If you are unable to complete this task yourself, there are services that can do wood floor repairs for you.
Once these repairs are finished and your deck is structurally sound, you should sand, stain, and seal your deck to protect it from potential damage. If you have a stone patio, you should also check for loose or missing slabs and replace them as needed. Once your deck is structurally sound and properly finished, you will have a beautiful deck that you can begin decorating with patio furniture, the next step to transform your backyard into a relaxing summertime paradise.
Patio Furniture
After you have your patio or deck space ready, the next step is to purchase some patio furniture for sitting, eating, and relaxing. Look for patio furniture that is durable and weatherproof, but still comfortable. Unless you have room for storage, your patio furniture will be exposed to harsh weather year-round, so it will need to be able to stand up for years. To properly transform your backyard, you will need some basic patio furniture such as lounge chairs, an outdoor table for meals or games, an umbrella, and a hammock.
Other than patio furniture, an outdoor fire pit is another simple feature that can help transform your backyard into a summer paradise. An outdoor fire pit is great for sitting around the fire and socializing, roasting marshmallows to make s'mores, or even cooking dinner on the fire in your backyard. You can easily build your own fire pit yourself with a few fire safe concrete bricks. Just check the building codes in your area to see if there are any local laws or regulations pertaining to fire pits. If you need help finding this information, contact your real estate agent.
To transform your backyard patio even further, throw pillows can be an eye-catching addition to your back patio. Colorful and comfortable cushions or throw pillows will spice up your patio furniture and entire backyard with color and summertime feel. Adding a rug to your back patio or deck will also make the space feel more comfortable, while also protecting your deck. No matter the size, shape, or material, just make sure the rug is an outdoor rug that is made to last in all types of weather. Generally, outdoor rugs are made from synthetic material. Polypropylene is best for humid and rainy climates, polyester is best for dry climates, and nylon is best for areas that will see a lot of traffic. Cozy pillows, cushions, and rugs will help persuade guests to feel comfortable and enjoy your backyard summer paradise.
Backyard Lighting
Lighting can help transform your backyard and provide that relaxed ambiance you are looking for. Tea lights or other creative do it yourself lights such as canning jar lights, tin can lanterns, or paper bag lanterns are great options for decorative lighting. To help create this relaxed ambiance, place landscape lights at the bases of your various trees, aimed into the canopies. Use candles to fill out the rest of your night lighting, preferably in shades of green and other earthy colors.
You should also consider installing some sensor activated lights in your backyard for improved security. Smart lights are a great option for backyard patio lighting since they can be controlled with your smartphone.
Backyard Privacy
You may be very fond of your neighbors, but you might not want them to always be able to see into your backyard. There are many creative ways to improve the privacy in your backyard paradise, such as hedges, arborvitaes, willows, bamboo, or a pergola. If you are deciding what trees to plant, an arborist can help you since they are trained in the art and science of planting, caring for, and maintaining trees.
Willows are a popular choice because they not only provide your backyard with privacy, but immense shade as well. A willow is an elegant tree with slender branches that grow four to five feet long. Before planting, consider that a willow may require frequent tree pruning. Its leaves are lance-shaped which looks great near a stream or a pond. However, the best way to ensure your privacy in your backyard is by installing vinyl fencing. A fence does not only improve privacy, but also security.
Backyard Landscaping
Backyard landscaping is often considered the best way to transform your backyard into a summer haven. This does not require the most expensive or extravagant trees and plants. Opt for small trees and large shrubs for landscaping around your deck, along with ornamental grasses and small perennials to fill in the ground around them. If your area has a high mosquito population, lemongrass is a great option to plant in your backyard to help fight them off. Lemongrass grows very easily, requires almost no maintenance, and gives off the fragrant essential oil known as citronella, which repels insects, especially those pesky mosquitoes. You can also use the entire lemongrass plant to make a fresh and refreshing iced tea for the summer. Lavender, eucalyptus, black-eyed susans, and basil will also introduce pleasant fragrances and diverse colors to your yard.
If you have a small backyard, a beautiful ground cover might be the best option for you. Ground covers are plants that are capable of growing just about anywhere in your yard. They do not have any special soil requirements and can grow in the shade or the direct sun. Ground covers will protect your yard from drought and soil erosion. Some ground coverings such as sedums are drought tolerant and will actually grow and thrive in dry conditions. A landscaping contractor can work with you and help you determine what trees, flowers, and shrubs are best to plant in your backyard.
Once your herbage of choice is planted, you will need to devote some of your time to upkeep, or hire landscaping services. This includes trimming overgrown bushes and trees, pulling weeds, cutting and watering the grass, planting flowers around your yard, and watering your garden. These simple landscaping tasks will have your backyard looking like a summer haven in no time.
An Outdoor Kitchen
If you can afford it, a functional outdoor kitchen is a great way to equip your backyard paradise with all the convenience and comfort of an indoor kitchen. This will make hosting outdoor events such as barbecues and picnics much easier. Your outdoor kitchen can include appliances such as a refrigerator, grill, stove, wine cooler, or a pizza oven. If your outdoor kitchen includes counter space and a sink, you can conveniently prepare ingredients and cook all in one location to create the best experience for everyone. A remodeling contractor can help you create the expansive outdoor kitchen that you have always dreamed of.
If you are not keen on shelling out thousands for a general contractor to put in an outdoor kitchen, you can build your own makeshift backyard kitchen by using the space you already have and a few inexpensive items that you also likely already have, such as a shelf or cart for storage, a cooler, a grill, and any flat surface for prep.
Another popular fixture of an outdoor kitchen is an outdoor bar. The best spot for an outdoor bar is in the shade, by means of a tree, umbrella, awning, or pergola. For your bar, you will want a durable outdoor bar cart for storage and a weather-resistant bar for serving. A mini fridge, cooler, or ice bucket is crucial for keeping drinks cold throughout the dog days of summer. Finally, you will need plenty of seating to get the most out of your bar. This includes bar stools, Adirondack chairs, or benches.
A Water Fixture
Another step you can take to transform your backyard into a summer paradise is adding a water fixture. An in ground swimming pool is a great option for the hot summer months, which can boost the value of your home up to 7 percent. However, you will want to protect your pool area from the sun's harmful rays. A pool pergola is a great complement to your private pool that provides shade from the sun. Other than a pool, a fountain, pond, or rocky waterfall are other great options for a backyard water fixture.
Creating Your Own Backyard Wellness Zone
An important and often overlooked part of creating your own summer paradise is having an outdoor space entirely devoted to relaxation or meditation. Sometimes having your own backyard paradise can be a lot to take care of, which can be stressful. You may also share a home and backyard with family members or others, so what goes on in your surroundings may not always totally be in your control, which can also be stressful. The solution to this problem can be creating your own special area in your backyard for wellness. This is essentially a small private space of your own that makes you feel calm and healthy. For instance, this could be a small corner in your backyard reserved only for meditation. During the summer is a great time to get outside and create your own wellness zone.
Wellness areas are often equipped with healing candles, meditation crystals, and Tibetan singing bowls. A good idea would be to place a meditation cushion on the grass next to your favorite plant. No matter where your wellness zone is located, it should be a place in your backyard where you can relax or meditate.
Decorating Your Backyard With Plants
Cultivating a flower box, flower pots, or planting a small garden are great complements to your wellness zone, since they will help relieve stress. Decorating your backyard with plants can come with numerous benefits in terms of your mental, physical, and spiritual health. Plants release oxygen into the air and are known to lower stress levels and improve moods. Certain varieties of plants can even remove toxins from the air. Other plant varieties can reduce discomfort and pain and improve attention span, making you more productive. Other than these holistic benefits, having a variety of plants in your backyard will make you feel closer to nature and create a sense of mental calmness and balance. This is not to mention the fact that your backyard will look fresher and more welcoming.
Securing Your Belongings
Once you transform your backyard into a summer paradise, make sure you take the necessary precautions to protect your outdoor property. All your garden supplies, hardware & tools, or lawn equipment should be locked away safely in a shed, far away from pets or kids and hidden from burglars. In addition, take some time to inspect your backyard for any potential breaches in security. This will keep you and your family safe and protect your back patio.
Summer is the perfect time of year to relax and enjoy the outdoors. Whether you decide to include an outdoor kitchen, bar, water fixture, wellness zone, or an in ground pool, it is of the utmost importance that you make your backyard space your own. Once you transform your backyard following these tips, you will have access to your own private backyard paradise any time you wish.