Mistakes to Avoid When Laying Sod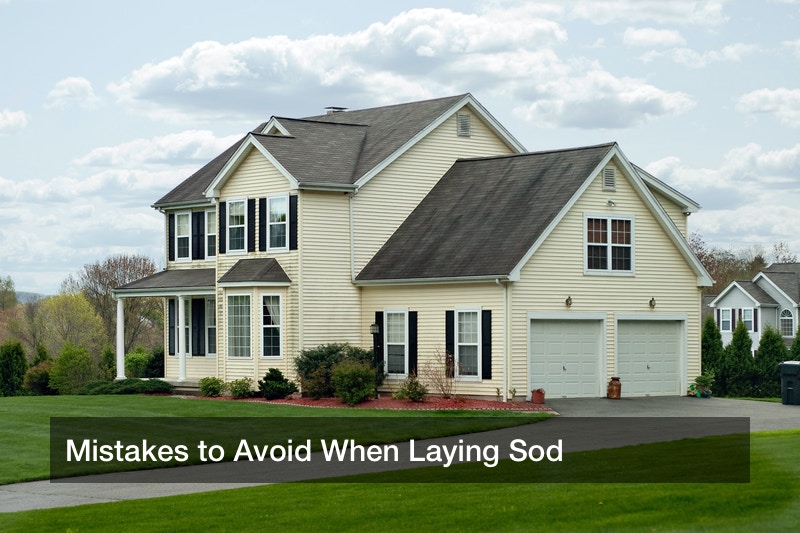 It's that time of the year where every gardener looks forward to tending to their plants. The smell of lilac is in the air. And, the temperatures are rising, indicating the start of a new season. With the beginning of a new season comes new expectations and changes. For most gardeners, one of those changes is finally growing grass for their lawns.
Laying sod in your landscape plays a significant role in the growth of your lawn, and learning how to do it right can make a huge difference for your yard. Some of the mistakes to avoid include:
Not Identifying the Different Types of Fill Dirt
It's common knowledge that for you to have a garden, you need soil. Due to modernization, more and more homes are opting to concrete their homes rather than have a garden. But, for the few who love having a green compound, the first thing you should always do is identify the type of fill dirt in your compound.
Although different types of dirt are classified as fill dirt, they are not all the same. Some types of fill dirt are suitable for landscaping, while other dirt is only perfect for filling low spots and holes. So, how do you identify which fill dirt to use for your lawn?
The best types of soil soil to use from all the types of fill dirt is topsoil. This soil contains nutrients. It also easy to level and spread with a rake, as it does not contain lots of debris or huge rocks.
Don't Take Too Long to Plant the Sod
Sod is grass that is grown by experts and sold in numerous sections. With the section you purchase, you can easily roll or transplant it onto your lawn. However, most people make the mistake of taking too long to install the sod.
Sod decomposes at a fast rate because of the air temperature. Thus, the more time you take, the less grass you will have to install on your lawn. Therefore, make sure you plant the sod within 24 hours or less to keep it from decomposing faster. You can also plant it immediately after delivery, as this will be an easier process when the sod is still fresh.
Not Watering the Sod Soon Enough
If you are planting sod, when it's windy or warm, the grass must be watered within the first 30 minutes of planting it. The harvesting of sod separates it from its root, and this causes it to dry out quite fast when planted. Thus, make sure you have a sprinkler installed, as this will help you start watering the sod immediately after you complete the planting process.
Not Getting the Water Deep Enough
Watering the sod once after planting is not enough; it has to be watered every day for at least two weeks. Fresh sod comes with shallow roots, which need to be watered regularly to help the roots grow deeper into the soil. And, by watering it every day for two weeks, the roots can start growing deeper into the ground.
By using a sprinkler instead of a hand watering device, you can easily distribute water slowly, allowing the sod to absorb it within a short time. Hand watering dumps lots of water and most of it ends up running off without watering the grass. Thus make sure you use a sprinkler or hose to water your lawn.
Watering in the Evenings during the Summer
Summers are humid and hot, and they also create ideal conditions for the development of fungus. Now imagine leaving the lawn wet overnight. Thus to avoid the growth of fungus, make sure you water your grass in the morning. This will give it time to dry out.
There is nothing quite beautiful than having a green lawn. By avoiding the above mistakes, and identifying the different types of fill dirt soil, you are well on your way to having the garden of your dreams.